How do you preserve cultural landmarks?
As featured on CNN Philippines Life.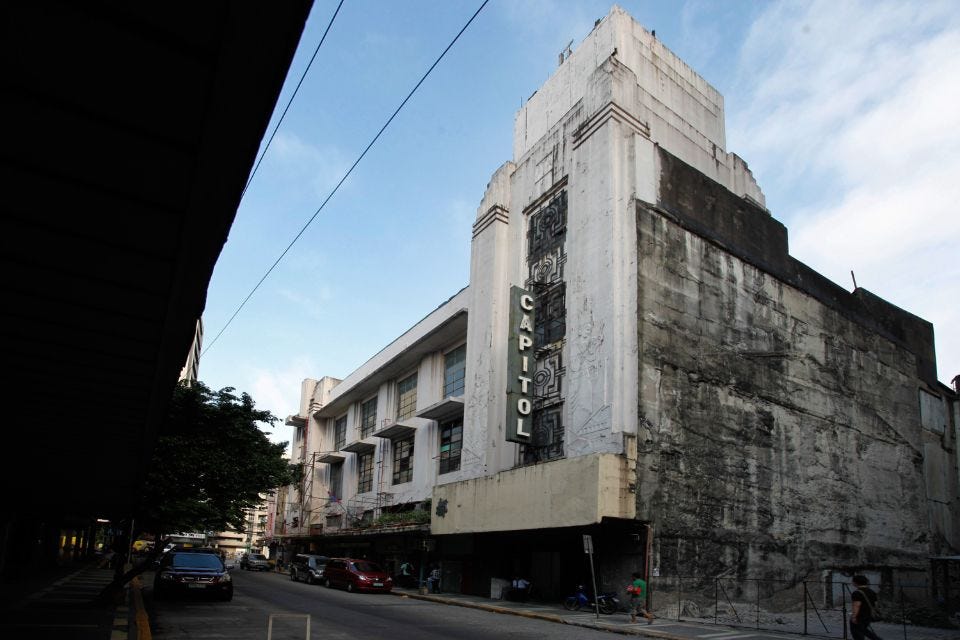 The Capitol Theater in Escolta Street, Manila was once revered as one of Manila's most "modern" theatres. Photo courtesy of ED SIMON/BLUPRINT MAGAZINE
---
A letter from Don Jaucian, Editor-in-Chief of CNN Philippines Life.
In 2019, during the month we mounted the Escolta Block Festival, running back and forth between the Escolta Exchange and the First United Building, Capitol Theatre, or what remained of it, was always in my view. The theatre felt lonely, resigned to the fate of its eventual demolition. Though it was agreed that the building's facade will not be touched, it would never be the same.
Fast forward to June 2020: news broke that the skeleton of Capitol was finally demolished. In this article, Sai gathers a few key voices from Manila's heritage preservation movement, discussing how Capitol's struggle reflects much of the city's conservation efforts. The fact that Capitol is a movie theatre ties its story to the Philippines' film heritage, too (I wonder if the government's denial of ABS-CBN's franchise, the country's largest media broadcaster, also affects their film restoration project, Sagip Pelikula).
I hope this article helps readers gain more insight into the multi-faceted fight for preserving the Philippines' most important landmarks — some reminding us of a gilded era when multiplexes didn't dominate our film viewing choices.
---
Teddy Co was a young boy when he frequented Manila's "movie palaces" in the 1960s. The brightly lit marquees made a spectacle of Rizal Avenue, colloquially known as Avenida. Long queues lined the corner of Carriedo Street where Ideal Theatre stood, premiering Metro-Goldwyn-Mayer (MGM) pictures like Doctor Zhivago. Down the avenue was the State Theatre — the home of Twentieth Century Fox films like William Wyler's historical epic Ben Hur. Co would cross Plaza Sta. Cruz to reach Escolta Street where he attended screenings in Capitol Theatre for Taiwanese films subtitled in English.
"When I was going to Capitol, it wasn't at its height anymore," said Co, a film historian. Built in 1935 and renovated after the Second World War, Capitol was revered as one of Manila's most "modern" theatres. The ziggurat tower, decorated with a geometrically woven grillwork, was reminiscent of a Parisian industrial quality — what art historians later coined as "Art Deco." On the vertical planes flanking the tower were bas relief sculptures by the Italian sculptor Francesco Monti — two women in baro't saya, one carrying a theater mask and another a lyre, elegantly hovering over pedestrians. Capitol's double-balcony interior accommodated over 1,100 people — a rare feat for its time — and was designed by architect and National Artist Juan Nakpil.
Yet, like State and Lyric, its sister theatres on Avenida and Escolta, Capitol eventually met its demise. On June 2020, the building's post-war facade was demolished to make way for a high-rise.
The tower relic remains. However, its fate lies in Ascott Resources & Development Corp. (ARDC), Capitol's late owners and developers, as they dig and drill around the rubble, which, some argue, risk the integrity of this delicate building.
The story of Capitol Theatre is the story of Manila's cultural heritage. These landmarks pay testament to a Filipino history that was spent "300 years in a convent and 50 years in Hollywood." However, their legacies teeter on the edge as the city rapidly "revitalizes" and solutions to their preservation change as quickly as buildings are destroyed.
Read the rest of the article on CNN Philippines Life.
---
Some housekeeping
To research for this article, I visited the Capitol Theatre site in Escolta Street. I took this sneaky photo of the demolished interior through a hole in the metal hoarding before I was shooed away by the caretaker.
The format of this edition of Cultural Learnings is slightly different for a few reasons.
Last month, I spent a lot of time processing the slew of (bad) news while making futile attempts at managing work and leisure. Reaching the end of my wick, I struggled to write with the same fervour of my early quarantine days: Developing an angle, researching a topic, analysing information, and writing the thing gradually took its toll as my "processing" intensified — a condition that, I feel, had more to do with my brain melting rather than apathy towards an old routine.
I took a pause on writing for a period longer than I ever desired. It was partly due to a new hobby, one that is more body over mind and have wanted to pursue since I was about eleven: DJing. I published my first mix last month which aired on Transit Records Radio — a selection of groovy acid and industrial techno music. I've also started doing live broadcasts for friends, jamming to new and old digs. If you'd like to tune in some time, drop me a note and I'll let you know when the next stream is.
When I do write, it's more introspective than investigative — like this anecdote I published on Edsa's latest newsletter wherein I ruminate on the "public space" as being on fire, both figuratively and tropically (in the Philippines, at least). The newsletter also includes photographs, music playlists, and anecdotes from people I look up to in the creative industries, including David Zilber (former Director of Fermentation at noma) and Kiana Valenciano (Filipino R&B singer).
Thus, when I was commissioned to write this story for CNN Philippines Life, I felt like some normalcy was restored. Interviewing strangers, visiting sites, and confronting hard questions not only reminded me of how intellectually dehumanising this pandemic has been; it made clear, too, that the world is patiently waiting for us to explore it again when we are ready.
So, I hope you will be patient with me as I muster my creative energy in this brave new world. Thank you for keeping this platform alive and for inspiring me with your stories. It means so much.
---
To keep you company
Richard Brody from the New Yorker asks: "Do movies still need multiplexes?"
When historic preservation hurts cities.
A short history of softcore sex or "bomba" films in the Philippines, once a highly popular film genre during the 1970s and '80s. Two words: Boogie Nights!
Twenty-five years of change in London through the eyes of a drug dealer.
A list of Philip Seymour Hoffman's favourite books.
Wake Up Calls is a compilation of short musical pieces by Cosmo Sheldrake, made entirely from the sounds of endangered British birds. Below is a track called Cuckoo, featuring melodies by a short-eared owl and a nightingale.
The logos of mid-century movie theatres clustered in the Avenida, Azcarraga, and Quezon Boulevard in Manila, Philippines. (Source: Video48)
A film still of Avenida from Manila in the Claws of Light (Maynila sa kuko ng liwanag), directed by Lino Brocka in 1975.
Escolta Street at night where Capitol and Lyric Theatre once stood — the respective homes of Colombia Pictures and Warner Bros. Pictures. (Source: Pinoy Kollektor)
Correction: In the editor's letter by Don Jaucian, his original quote was "it would never be the same" rather than "I felt that it would never be the same."
---
Cultural Learnings is a newsletter written by Sai Villafuerte. You can support it by subscribing, sharing this post, emailing your thoughts, or answering this survey.