How much can change in a year?
Recapping one year of radio silence, plus dispatches from the cosmic waiting room.
Cultural Learnings is an editorial platform for discussions on culture, curated by Sai Versailles. You can support it by subscribing to this newsletter, sharing it with your friends, emailing your thoughts, or answering this survey.
The Cultural Learnings radio show is currently on hiatus, but you can access its archive of eclectic sound selections here. For a better reading experience, download the Substack Reader app on iOS or Android.
---
Believe me when I say that, for this entire year, I've thought long and hard on when I can write here again.
In my last newsletter, aptly titled "How do you process experience?", I was grieving a lot. That set the tone for my year in 2022, which involved unlearning big things, and reclaiming happiness in small ways.
In January, after a bout of Omicron, I fulfilled my life-long dream of getting a dog: A black chihuahua named Turbo. Training a nervous animal to co-exist forces you to take things one paw at a time – an extremely humbling form of patience.
This December, I published a personal essay on my journey with eating disorders, the banes of competitiveness, and finding peace in mediocrity. Appropriately, Oxford's word of the year is "goblin mode," embracing the unkempt and hedonistic with zero concern for self-image. Somehow, my dog helped me realize that my flawed self was alright – that I'm loved even if I'm smelly, or not the best version of myself; that it's OK not to know all the tricks, like how I won't always write my best work after every commission.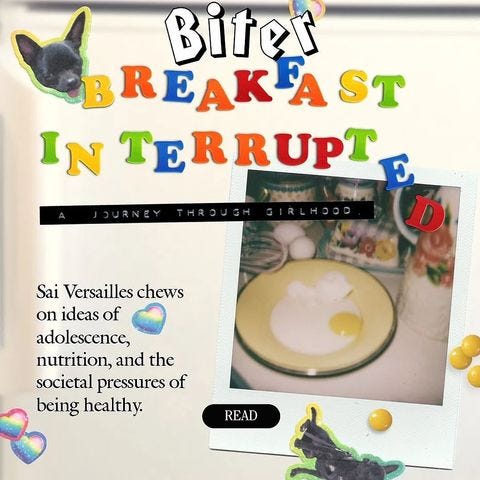 In May, I voted for the first time during the Philippines' presidential elections, and the son of the former dictator, Ferdinand "Bong Bong" Marcos Jr., won. It broke a lot of us, pushing me to re-evaluate networks of complicity I may have unknowingly paid patronage to. Not easy waters to tread. But when Vulture published their issue on the nepo babies of Hollywood, it felt like high time for this conversation again. I hope to see more nuanced discussions on nepotism in 2023.
In July, I left my day job to pursue my writing full-time, while implementing a four-day work week. In partnership with Boston College, University of Cambridge, and University College Dublin, businesses all over the world launched their pilot trials earlier this year with results suggesting the change will be permanent for many.
As a freelancer, I launched my four-day work week under my own volition – after months of burn out from my old job. With some experimenting, I realized Fridays off don't work when everyone around me is still strung from their busy existence. Plus, I hated the dread of a Sunday evening. So, the calm of a Monday morning has been unparalleled.
The way these life changes have impacted my writing is the reason why it's been hard to return to Cultural Learnings. I described in a previous newsletter how I normally start writing by spending "a day researching on a proposed question and making attempts to answer it."
But what if I no longer had time for extra-curricular "research," when I could barely take care of myself or my loved ones who need help? I may work a four-day work week, but that doesn't mean I should expend it with more brain cells. Years of romanticizing the creative practice and "doing what I love" finally bit me in the ass, and I'm reeling from it now. For me, there will always be an abundance of work, whether actual job work or urgent errands. Now, I just crave being a goblin and the luxury of living aimlessly.
The red thread in all this is to take things "as slow as possible" – a motto I will carry into 2023, a new year of cultural (un)learning. I can't promise when I'll be back here; that this will be monthly thing from here on out, or whatever. But know that this project is always in my mind. I just need to learn to love it again. Things take time, so I hope you'll stick around for it.
Below is an excerpt from my diary of my first international travel since the pandemic. Maybe it's not my best writing. But it's what I have now, ready to share with you.
---
Dispatches From the Cosmic Waiting Room
December 16, 2022
Chon Buri, Pattaya, Thailand
I took the acid after an afternoon nap. Not sure if I slept. But it was nice to rest the body, even if the mind was awake.
The acid was in a gel tablet shaped like a pyramid. I'd never taken it that way before. It had the texture of a gummy bear. It kicked in after thirty to forty-five minutes, during Tom of England's set at [Wonderfruit's] Solar Stage. We watched from a structure [built by architect Gregg Fleishman], which was like an adult jungle gym.
Then the visuals got stronger. Overwhelming. Clouds merged into other organic shapes. When I closed my eyes, dusts of colour sparkled to the swaying of the wind, like when incense burns and wafts of smoke trail the air. Everything was stenciled in technicoloured grids, slicing space into symmetrical chunks. The geometry was in how everything was a mirror image of itself. I felt this most at the Polygon stage when the cocoon structure pulsed light in and out of different patterns. It was trippy, but I told Sean to ground me because the grids had me ripping through the fabric of reality. I couldn't navigate our way around the fields if my life depended on it. I was completely lost in the sauce.
I entered an Apocalypse Now moment during the big, orange sunset. The smell of napalm was replaced with puffs of cannabis. Single-engine planes flew overhead. The view reminded me of the Empire of the Sun movie poster, even if I hadn't seen the film yet, and being surrounded by strangers brought to mind that scene in Beetlejuice when purgatory was depicted as a waiting room. I was a traveller, and Thailand was the cosmic waiting room where all travellers passed through (Thailand is that for many people). I just re-read the first few pages of The Beach by Alex Garland, so this idea of "travelling" and the backpacker mentality really stuck with me.
When the dusk settled, spotlights lit up the sky. I couldn't tell if the dots above were stars or camera drones. Pings, pongs, and ding dongs echoed from everywhere. Suddenly, it was show time. I was in Las Vegas and I was Raoul Duke, fear and loathing through the fields of Pattaya. This feeling peaked when I went to the men's bathroom because the line to the women's was too long. In the cubicle, the toilet was black and dusty, like it was bombed. Someone took a massive shit in the trash can. "Where the fuck am I?" I thought, checking if I had everything. The belt bag buckled around my hips. A carabiner latched onto the strap with my keys. Phone in one pocket, wallet in another. A handkerchief wrapped around my face as protection from the dust storm outside. And this stench. I squatted over the bowl and pissed with mercy. "Why am I here, and how did I get here?"
When I returned to the Solar Stage for Tom of England, who was finishing his set, it was like landing back in planet Earth. In my mind, he was a traveller too. Like those English guys that overstay Thailand. It's in his name, I think. He sounded fucked with his raunchy accent. Or was I projecting? He spoke over the mic, addressing the crowd.
"Catch ya at 1 AM in thee otha stage, 'starts wid an N," he slurred.
Seeing him made me feel like I wasn't alone. That this wasn't his first rodeo, nor was it mine.
---
Recaps, Updates, and Further Learning
The Cultural Learnings radio show is on hiatus until further notice. In the meantime, I'll run my slot on Manila Community Radio simply as Versailles. This way, I can share music more freely, irrespective of theme. Stay tuned for the live show schedule on my Instagram.
Here are my top picks from this year's Cultural Learnings radio show:
My writing changed a lot this year. Like in this profile of painter Luis Lopa, which I wrote like a screenplay. "A writer sets out on a script about a painter at a crossroad, making sense of surfing, the banes of technology, and art's value in the world."
This story from The New York Times on mental health explores the movement away from medication, and towards greater acceptance.
I read a lot of articles on mediocrity this year. But this is my favourite one. "For creators of color, the perceived need to be exemplary can be artistically stultifying. Instead, true freedom may lie in being allowed to be fine — or to fail."
Top 5 films seen this year:
TÁR (2022): This story of a power tripping composer-conducter, played by Cate Blanchett, touches on cancel culture and the pitfalls of being a girlboss.

Crimes of the Future (2022): David Cronenberg continues to explore "the flesh" through the character of Saul Tesner, a performance artist whose organs continuously mutate.

Mysterious Skin (2004): One of the saddest films I've ever seen, on the trauma of childhood sexual abuse. Starring a young Joseph Gordon-Levitt.

Vortex (2021): Another sad story on the neglect that comes with growing old, directed by Gaspar Noé.

Boiling Point (2021): Think The Bear, but Christmas dinner service goes awry.
"Accusations of elitism circle above the art world in a perpetual holding pattern. Here, the world "elite" never means "highly trained" or "of exceptional ability." Instead, it gets used as a synonym for "intellectual," "urban," "rich"–wielded in much the same way the word "pretentious" is. The art incubates many subcultures. … Some enter for scholarly reasons, others to do business or because they enjoy playing its politics. Within it there is as much collegiality and internecine bickering as within any other subculture, and the assumption that it can be grouped together as one homogenous group is shaky at best. The apparent difficulty of contemporary art suggests that it requires a specialist education in order to be understood, that it demands time for study that only the privileged can afford to spend. Therefore, it's art made for cliques, not crowds. Artworks can certainly be opaque; I've been an art critic since 1999 and still find many artworks hard to fathom. But for me therein also lies the fun: the pleasure of figuring out a puzzle, or piecing together a backstory, or simply applying your imagination to your own reading of whatever painting or sculpture you're looking at. There is no "wrong" way to look at art, only schools of thought–some of which the artist might support–that suggest a particular way of looking, or arise from a feeling of duty to be true to what artists say their work is about."

— Dan Fox, Pretentiousness: Why It Matters
---