Why is rediscovery underrated?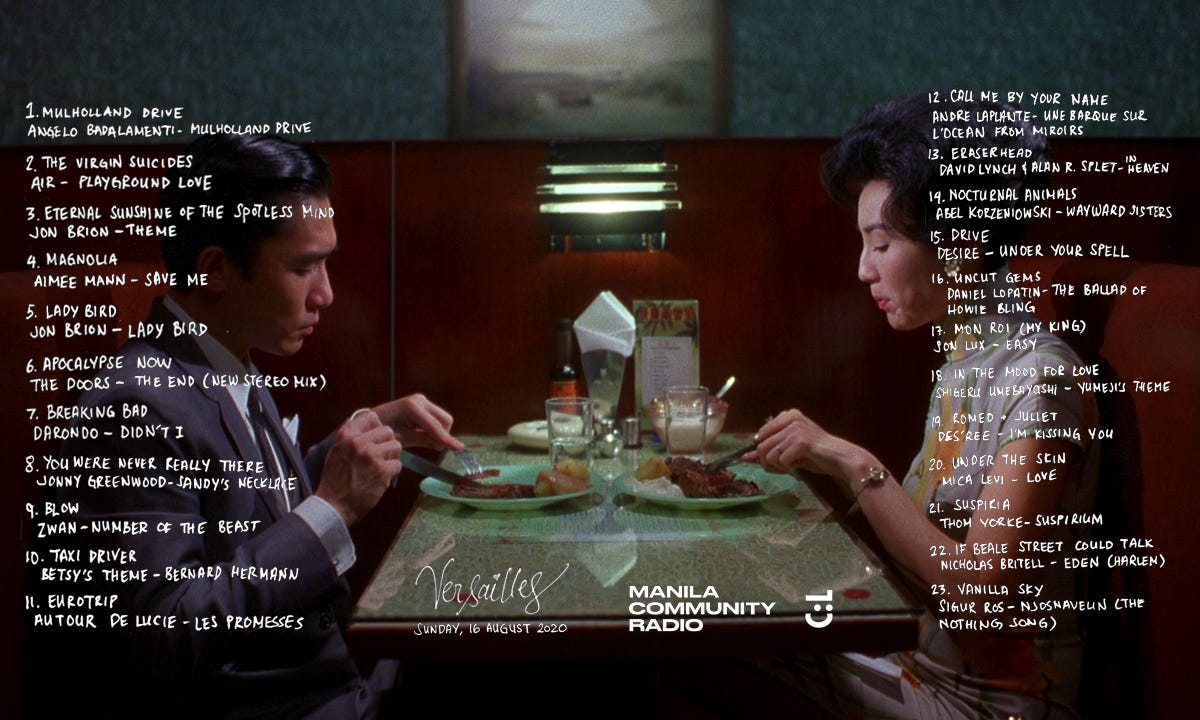 The tracklist from my film music show last Saturday, 16 August, on Manila Community Radio. Available for playback on Cultural Learnings and Mixcloud.
Last Saturday, 16 August, I went live on Manila Community Radio as Cultural Learnings for the first time where I talked about twenty-three films for two hours, showcasing the moody vocals and instrumentals behind them.
Listening back to this show now, it brought me full circle following an interview I published last week with Angela Stephenson. Angela is a London-based photographer, filmmaker, former Boiler Room producer, and, most recently, DJ under the alias Angelita. (She contributed a guest mix too, featuring what she calls her "sexy aggressive" sound — from UK garage and drill, to French hip-hop.)
Like me, she started DJing during quarantine after many years of sitting on the idea. Aside from discussing the creative differences between making images and mixing music, as well as the delight of pursuing new hobbies, something else from our conversation struck me — namely, this renewed excitement we felt towards discovery. This feeling was already hard to come by before the world closed itself off, and it is something artists, especially DJs, constantly have to keep fresh, albeit with difficulty.
While discovery can mean unearthing something completely new, which often feels impossible in a world saturated with recycled or "unoriginal" ideas, I find the act of re-discovery to be truly underrated — a fact I learned radio is the perfect outlet for.
Words could not describe how excited I was to put this show together. It includes a selection of film music newly discovered during quarantine, but also many that have been on rotation for years. Producing this brought my beloved world of movies and music under holy matrimony, solidifying, as opposed to weaning, my love for them.
I feel proud to bring you this audio version of Cultural Learnings — something I have always wanted for this platform. So, thank you so much to all those who encourage me to do what I do here.
As always, let me know if you learned something new or if there is something you want to hear more of. I'm all ears, all the time.
This show is also available on Mixcloud.
Click here to read the prelude of this show, which asks: "why do we watch films?"
---
Save the dates
1020 Radio (Bristol, UK)
Saturday, 29 August 2020, 17:30 - 18:00 BST
Sunday, 30 August 2020, 00:30 - 01:00 GMT+8
A special 30-minute guest mix for 1020 Radio journeying through a wide spectrum of acid techno — from ambient to rave real quick. Super excited about this one!
Manila Community Radio - Sunday, 6 September 2020
11:00 - 13:00 BST | 18:00 - 20:00 GMT+8
This two-hour masterclass examines the evolution of electronic dance music from 1977 to 2020.
Manila Community Radio - Sunday, 20 September 2020
11:00 - 13:00 BST | 18:00 - 20:00 GMT+8
To be determined. Follow me on Instagram to stay updated, or write to me with any suggestions.
---
Other housekeeping
I produced a recipe and a guest mix for JW Cooks, a fortnightly food newsletter by Jian Wei Lim. Spice your morning with some jazz, R&B, and psychedelic rock to go with a plate of tortang talong (pan-friend aubergine omelette).
In collaboration with Manila Takeout, we at Edsa partnered with OTO, a bar-cum-listening-room and part of Asia's 50 Best Bars list, on a t-shirt paying homage to spontaneous nights out with friends that unravel in unexpected ways. Takeout is a design initiative created to support Metro Manila's restaurant industry amidst the COVID-19 pandemic. 100 percent of proceeds will go towards OTO's hardworking staff. Pre-order yours here. You can also read our design statement here. International shipping available.
---
Cultural Learnings is a newsletter on contemporary culture by Sai Villafuerte. You can support it by subscribing, sharing this post, emailing your thoughts, or answering this survey.
OTO X EDSA, in collaboration with Manila Takeout. Available for pre-order.